What is AstraZeneca?
We are a global biopharmaceutical company dedicated to the discovery, development and marketing of prescription medicines.
Our staff includes over 64,600 professionals working in 29 offices across 17 countries. In Spain we are a team of over 700 employees who are passionate about our company philosophy. We are located in Madrid and have a wide-ranging sales network to service the entire Spanish territory.
At AstraZeneca, we firmly believe that science is at the core of everything we do and challenges us to push the boundaries. Science can change how we see the world and respond to diseases. In our company, freedom of thinking and creativity nurture our desire to make a difference driven by our passion for science. We believe in the power of ideas and work, alone or with our partners, to change the treatment of some diseases.
Our efforts focus on three priority therapy areas where we believe we can make a difference:
Oncology:

we are committed to delivering life-changing medicines to cancer patients –there are still more than eight million lives lost every year to the disease.

Cardiovascular, renal and metabolism:

we approach multiple risk factors through an integrated approach –cardiometabolism. This allows us to treat the patient as a whole, because we know the cardiovascular disease is a consequence of diabetes and chronic renal disease.

Respiratory:

with a 40-year track record in the respiratory area, we continue transforming the treatment of respiratory diseases and the outcomes of patients with asthma and chronic obstructive pulmonary disease (COPD)..
In addition to our priority areas, we are also active in other areas, including Inflammation and Autoimmunity, Infection and Vaccines, and Neuroscience.
As a science-driven company, we are committed to R&D and to the development of innovative treatments that are accessible to patients and enhance the value of our science. We have three leading edge R&D centers located in Cambridge (United Kingdom), Gaithersburg (US) and Goteborg (Sweden). .
"We work in projects in a cross-functional manner, where we collaborate with other company departments, share different working styles, and learn and use other points of view that help us be more efficient in our search for agile value-added solutions. We are a giant clockwork working together towards a common goal –finding treatments that change lives"
Laura Delgado, Oncology Brand Manager
"One of the things I'd highlight about AstraZeneca is the strong support of internal talent. Professional development in the company is always nurtured. All vacancies are first published internally, thus protecting transparency and internal development"
Ricardo González, RBD Diabetes Región II, CVRM BU
Our values
Our values underpin what is important for us and what we as a company stand for. They are our guide both individually and as a group.
What do we offer?
At AstraZeneca, we value and take care of our employees and facilitate their work. We offer programs that go beyond economic recognition and we empower talent, with each person owning their own development.
We are at the forefront of inclusion and diversity –there is no pay gap and half of our Board of Directors are women.
We also offer flexible hours and work, non paid temporary leave to address personal needs and different holiday periods, as well as continuous working days. We encourage employees to believe in themselves, to know themselves and to learn through experience. This passion for people is what makes us a great place to work.
Our certifications
We are the only Big Pharma company featured in the 2019 Bloomberg Gender-Equality Index, and have been named Top Employer Spain and Europe for the second year running. We also have the EFR certificate, awarded by Másfamilia Foundation, which recognizes us as a Family Responsible Company (EFR, in Spanish). We are third on Forbes top 50 companies to work in Spain..
Why work at AstraZeneca?
Our employee's pride is a global priority. At AstraZeneca we foster a culture based on learning, talent and continuous development where inclusion and diversity –of race, religion, gender, opinions and experience– are a reality.
We focus on improving the employee experience across all key moments, which is what ultimately makes working here an amazing experience. It is very important for us to find out how people live their daily lives, what drives them and what they expect from us to feel fulfilled both personally and professionally.
What are we looking for?
As an equal opportunity employer, AstraZeneca considers all applicants, regardless of age, gender and background. The most demanded profile is highly qualified professionals, primarily with a health-related degree, e.g., medicine, pharmacy etc.
We also value foreign languages and an international experience, as well as demonstrated interest in science because each and every one of us believes that science has the potential to change lives.
Visit our employment channel
AstraZeneca employment channel
« Back
Únete al Equipo HEINEKEN España
En Heineken España, buscamos gente con talento para incorporar en nuestras Oficinas Centrales de Madrid y Sevilla, así como para las fábricas de Sevilla, Madrid, Valencia y Jaén.
¿Quieres trabajar con nosotros?
REQUISITOS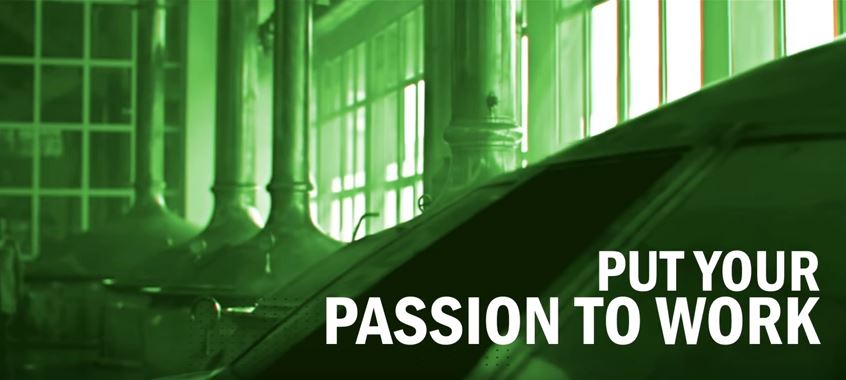 Titulaciones requeridas: Ingenierías, Económicas, Empresariales, ADE, Derecho, Biología, Farmacia, FP I y II (Ramas Automatización, Industrial, Mecatrónica, Robótica, Mantenimiento y Servicios a la Producción, Electricidad, Electrónica, etc.), etc.
Buen nivel de Inglés
Buen nivel de Ofimática
Valoramos que hagas las cosas de forma diferente, que hayas tenido experiencias únicas y que tengas pasiones que te hagan llegar al límite de tu creatividad y esfuerzo.
Si te consideras una persona proactiva, innovadora, comprometida y tienes ganas de aprender de los mejores profesionales en una multinacional de Gran Consumo referente en su sector, apúntate y vive la experiencia HEINEKEN.
¿Te identificas? ¡CONÓCENOS MEJOR!
Y, si tienes 5 minutos…y quieres dar un paso más...realiza nuestra video-entrevista en
GO PLACES
. ¡Averigua cuál es tu perfil HEINEKEN y compártelo!